Archive for November, 2021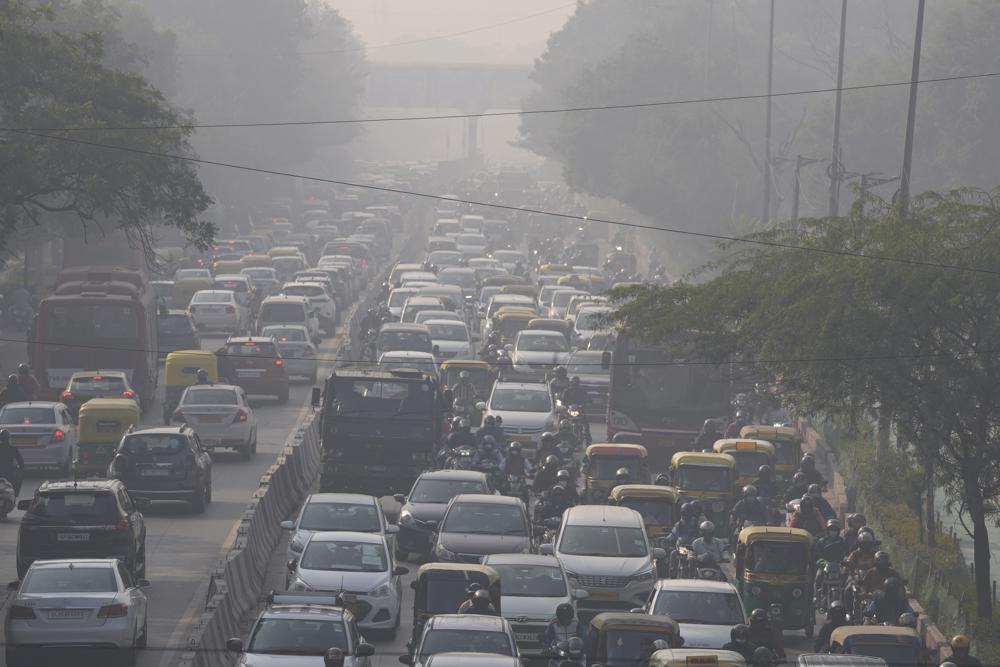 Commuters drive amidst morning haze and toxic smog in New Delhi, India, Wednesday, Nov. 17, 2021. Schools were closed indefinitely and some coal-based power plants shut down as the Indian capital and neighbouring states invoked harsh measures Wednesday to combat air pollution after an order from the federal environment ministry panel. (AP Photo/Manish Swarup)
NEW DELHI (AP) — Authorities closed schools indefinitely and shut down some coal-burning power plants Wednesday to reduce air pollution in India's smog-shrouded capital and neighbouring states, as the country weighs an unprecedented and more far-reaching step: a lockdown in New Delhi.
The dirty-air crisis in the city of more than 20 million people has underscored India's heavy dependence on coal, which accounts for 70% of the country's power.
The New Delhi state government said it is open to the idea of a weekend lockdown to reduce automobile traffic and potentially other air-polluting activity in the city, and it is awaiting the go-ahead from India's Supreme Court. A decision could come as early as Nov. 24.
[Source: AP News]
Carbon neutral delivery company Urgent Couriers is replacing its Auckland city fleet of cars with electric cargo bikes.
It has imported five purpose-built Urban Arrow electric cargo bikes from the Netherlands to service clients in Auckland's City Centre and surrounding suburbs. The move is expected to remove 40 to 50 tonnes of carbon emissions a year out of the inner-city.
The aluminium-framed bikes have a 250-watt motor and can carry a maximum load of 125kg in a lockable waterproof cargo box on the front of the bike.
Urgent Couriers managing director Steve Bonnici says the electric cargo bikes have been proven in markets around the world, but he believes they will be the first of their type to operate in New Zealand and he hopes courier companies in other cities around the country will follow suit. The bikes will service an area extending to Herne Bay, Grey Lynn, Kingsland, Morningside, Mt Eden, Newmarket and Parnell.
"This will provide faster deliveries as the bikes will be able to use the cycle lanes and not be constrained by traffic. It will reduce road congestion and it's also great news for the environment."
The bikes cost just over $64,000 in total and Urgent Couriers received a grant of $20,000 from the Energy Efficiency and Conservation Authority (EECA) towards the cost.
Urgent Couriers cycle courier Max Hampton has been appointed e-bike fleet manager responsible for recruiting staff and managing the logistics of the new service. Hampton says cycle couriers were a breed, but the electric cargo bikes will obviously require less pedal work.
"On average a cycle courier will cover 60 to 100 kilometres a day. The bikes' dual batteries have a range of 100 kilometres so the charge will usually last a full day. Safety will be paramount as the bikes themselves weigh 50 kilograms and with a rider and full load the combined weight could be up to 300 kilograms and they can easily keep pace with CBD traffic."
Hampton says there are currently no parking restrictions on the electric cargo bikes and there is enough room on Auckland CBD footpaths for a bike to be parked against a building while bike couriers do pick-ups or deliveries. The cargo bikes are fitted with GPS tracking devices for security.
[Source: TransportTalk]